Yoga at Summer House Park
Try Yoga on the Beach at Summer House Park
Start your day with a relaxing stretch and a peaceful sunrise over Miller Lake.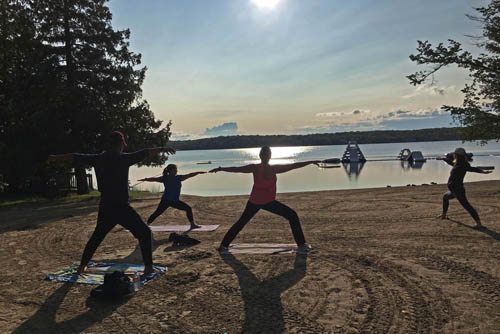 Join us for a beautiful early morning yoga class on the beach. The setting is magical. Enjoy the sounds of the babbling creek, the sunrise over the calm waters of Miller Lake and a sense of peace and serenity as you start your day with this guided practice.
Bring your own towel. Yoga mats are generally not required on the soft sand but feel free to bring a mat if you wish.
View date and time on our events calendar.
We offer yoga classes each week in July and August. This class is a Hatha Yoga instruction. Free to registered guests of Summer House Park.
Neighbours are welcome to drop in and join the class. Please register with the instructor. $15 drop-in fee for non-registered guests.