Woodland Gift Shop at Summer House
Find Unique Gifts at the Woodland Gift Shop
The Gift Shop at Summer House Park
Find what you need at the Woodland Gift Shop at Summer House Park.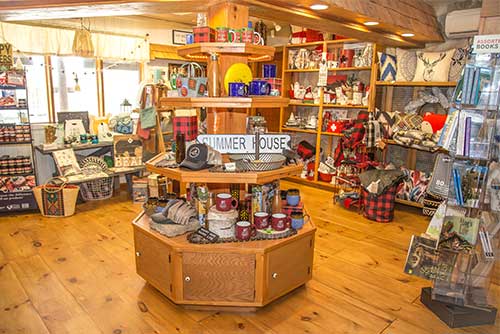 Browse through our camping supply store and Woodland Gift Shop. We offer a number of special treasures you won't find in just any forest!
Here you will find camping supplies, groceries, and a selection of beautiful work from local artisans, including jewellry, moccasins, home and garden decor, games, cards, books and other souvenirs with a woodland theme.
Stop by and find the perfect 'thank you gift' or holiday memento.
Find treasures from the following local artisans:

Georgian Bay Soapworks by Sue
Jordan Woodturning by Charles
Marlene Holmes' painted gourds
EcoArt by Kelly
Sticks n' Strings
My Ol' Blues from Manitoulin Island
Sheila Loewen - birch jewelry/ cards
Norman's Maple Syrup from Shallow Lake
Plus find a selection of other great Canadian-made products.